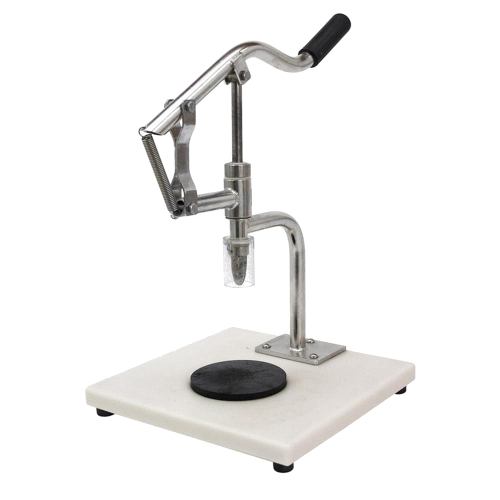 EZ Shucker
The Safe and Easy Way to Open Oysters and Shellfish
The EZ Shucker Advantage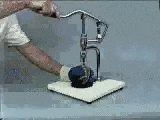 Opening oysters with a knife can be difficult and dangerous. One slip or miscalculation and there's a good chance of serious injury. The design of our oyster shucking machine is unmatched.
With EZ Shucker those worries are gone!
The EZ Shucker is SAFE and EASY. The knife is protected by a lexan shield and easily controlled by the handle which has a 2 to 1 mechanical advantage. The blade never points at the hand while opening the oyster with a patented natural shucking action.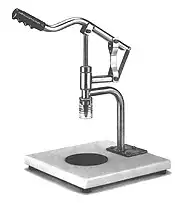 Click for larger image.
Specifications:
Height 19" Width 12"
Length 12" Weight 12 lbs.
100% American Made

Versatile . . . Quickly and easily opens oysters, clams and other bivalves.
Saves on Labor Costs . . . Anyone in your operation or restaurant - servers, busboys, bartenders, or kitchen staff - can shuck oysters with minimal training.
Durable . . . The EZ Shucker is hand crafted from high quality stainless steel and commercial grade plastics. There is a full year guarantee on all parts, materials and labor.
Price. . . For price and availability please contact Prawnto or your local EZ Shucker dealer.
Step 1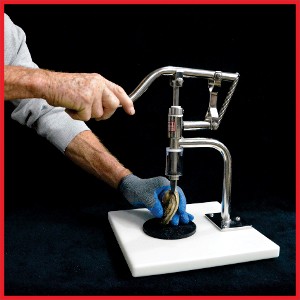 Place shellfish on work pad
Step 2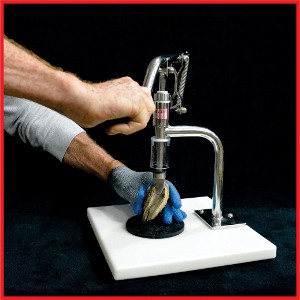 Work blade into seam
Step 3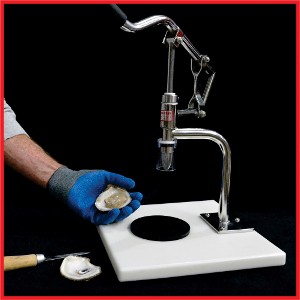 Separate the shell halves
Cut, devein, and butterfly shrimp the easy and fastest way - 100 pounds per hour - visit our friends at Prawnto.